NavyGuy and I were on the road by nine on Saturday morning, heading south for Seattle. Even though the clerk at "The Happy Donut" gave NavyGuy a 5-shot frappucino instead of a 5-shot cappuccino, our trip was off to a good start.

First stop on our itinerary - the Space Needle!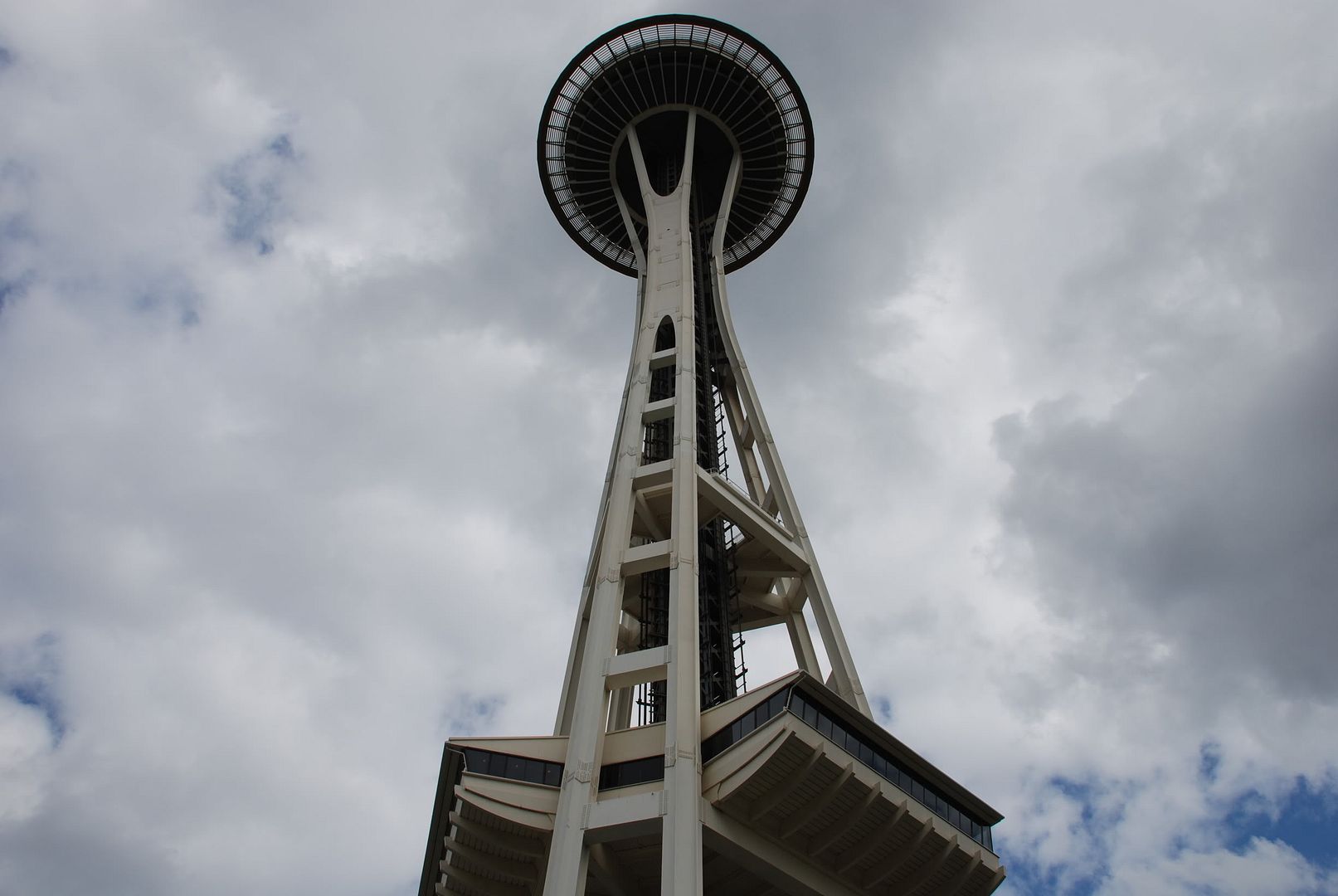 The ride to the top takes exactly 41 seconds - which our tour guide told us eight times in the 41 seconds - and all of a sudden we were at the top of Seattle! A great view, and lots of tourists with cameras.
We headed inside from the observation deck and stopped for a quick snack - what's more cliche than drinking Starbucks in Seattle?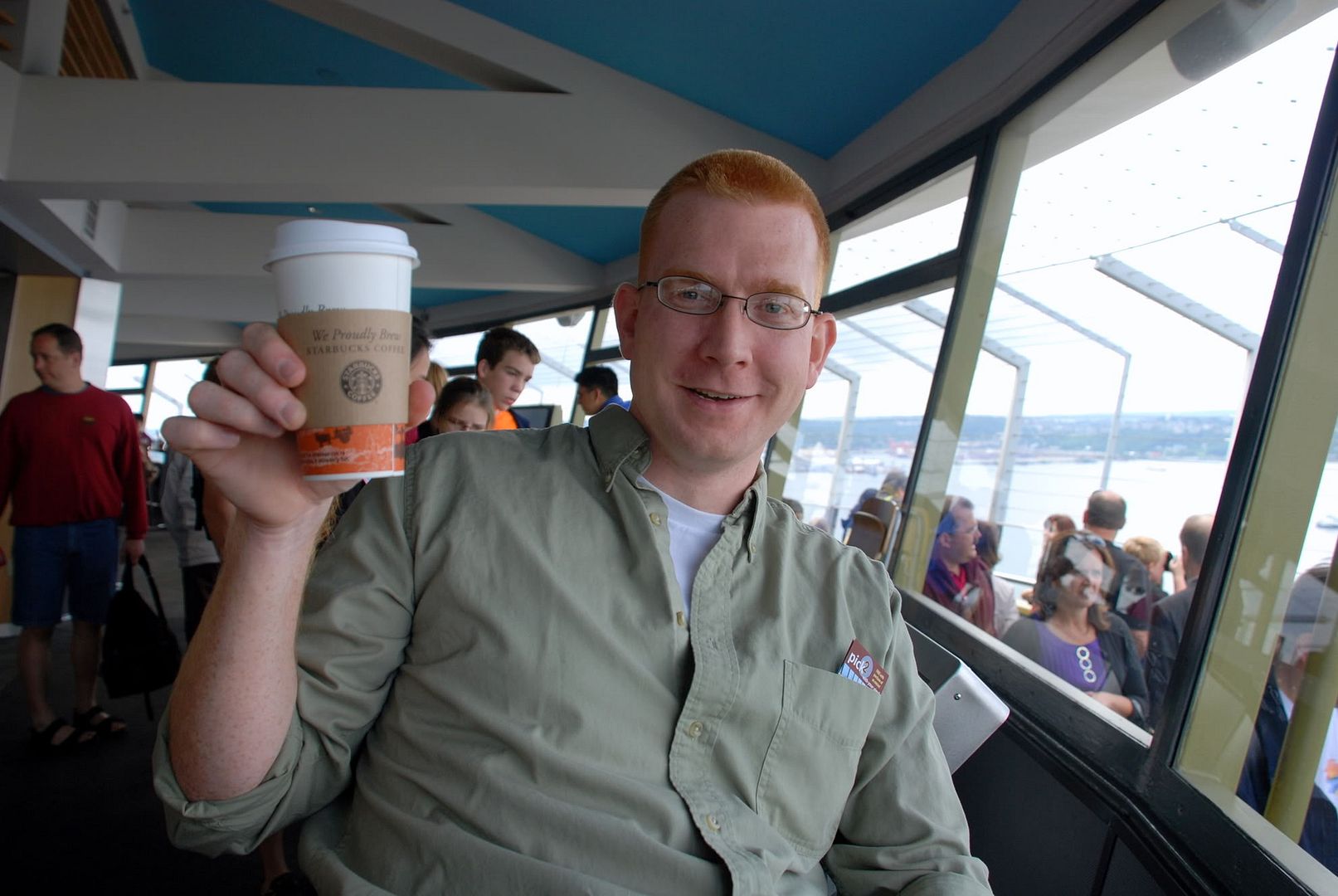 Next we walked several blocks toward the waterfront to check out the Olympic Sculpture Park. It's a fairly new park in a former industrial site, though you could never tell from the beautiful grass and walking paths, as well as some interesting modern sculptures. NavyGuy and I had fun trying to interpret the meaning behind the odd shaped art pieces (we clearly never took any art appreciation classes in college).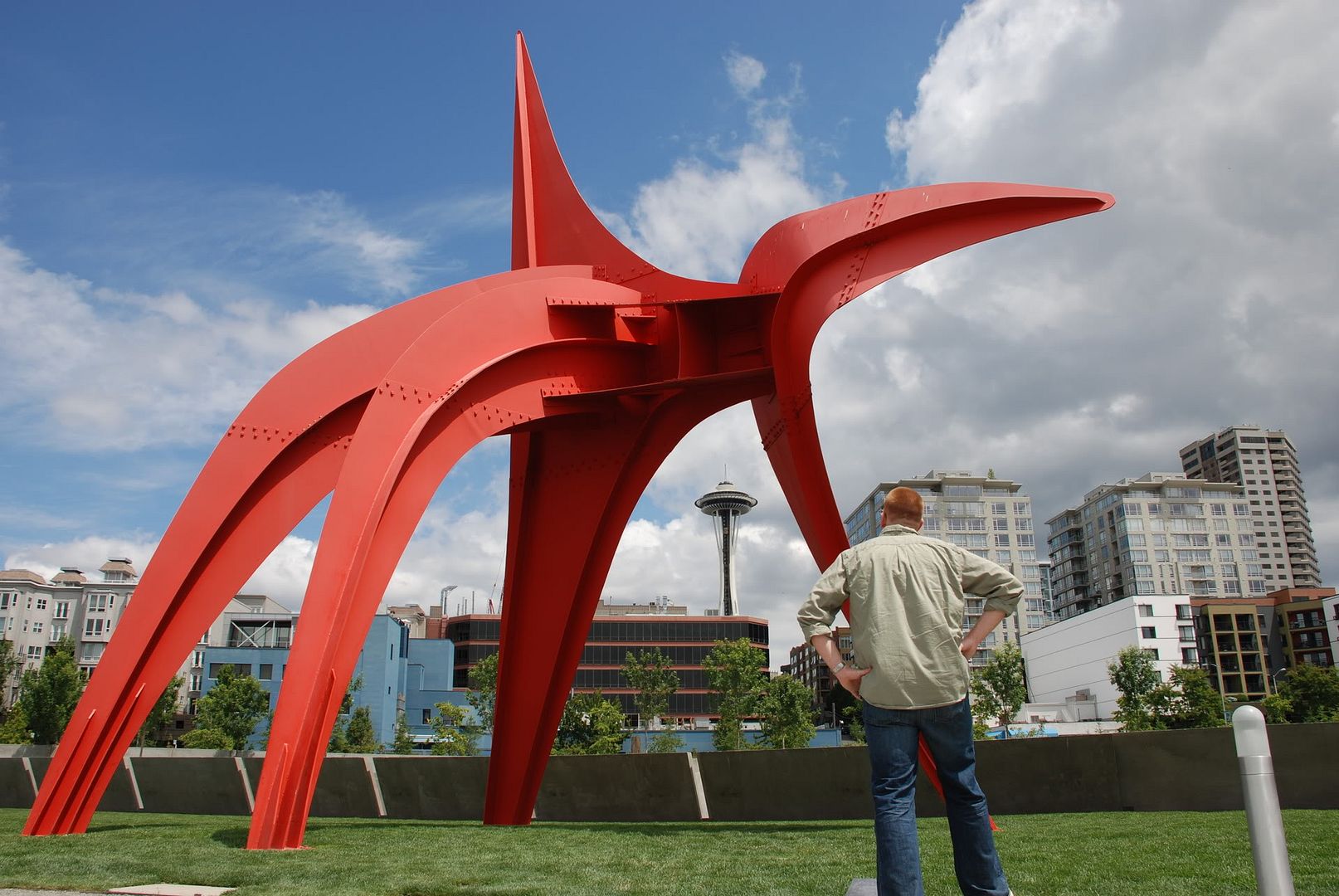 We hiked back up to the base of the Space Needle to see the Experience Music Project. (The weather was beautiful when we finished at the top of the Needle, so we wanted to make sure to fit in the outside park in case the stereotypical Seattle rain showed up later on in the day). The EMP was originally conceived as an ode to Seattle native Jimi Hendrix, but evolved into a more encompassing music memorabilia and pop culture site. There's lots of Hendrix guitars, interactive music stations (which are less impressive now that everyone and their mother has played Rock Band), and an exhibit on Northwest rock music.

NavyGuy and I probably liked the special exhibit on Jim Henson the best - we saw Bert and Ernie! Then it was off to the other part of the EMP... the Science Fiction Museum and Hall of Fame. A geek's paradise. NavyGuy stood outside first and recounted all of the science fiction books pictured on the wall that he had read... if you know NavyGuy at all, you know that listing took some time.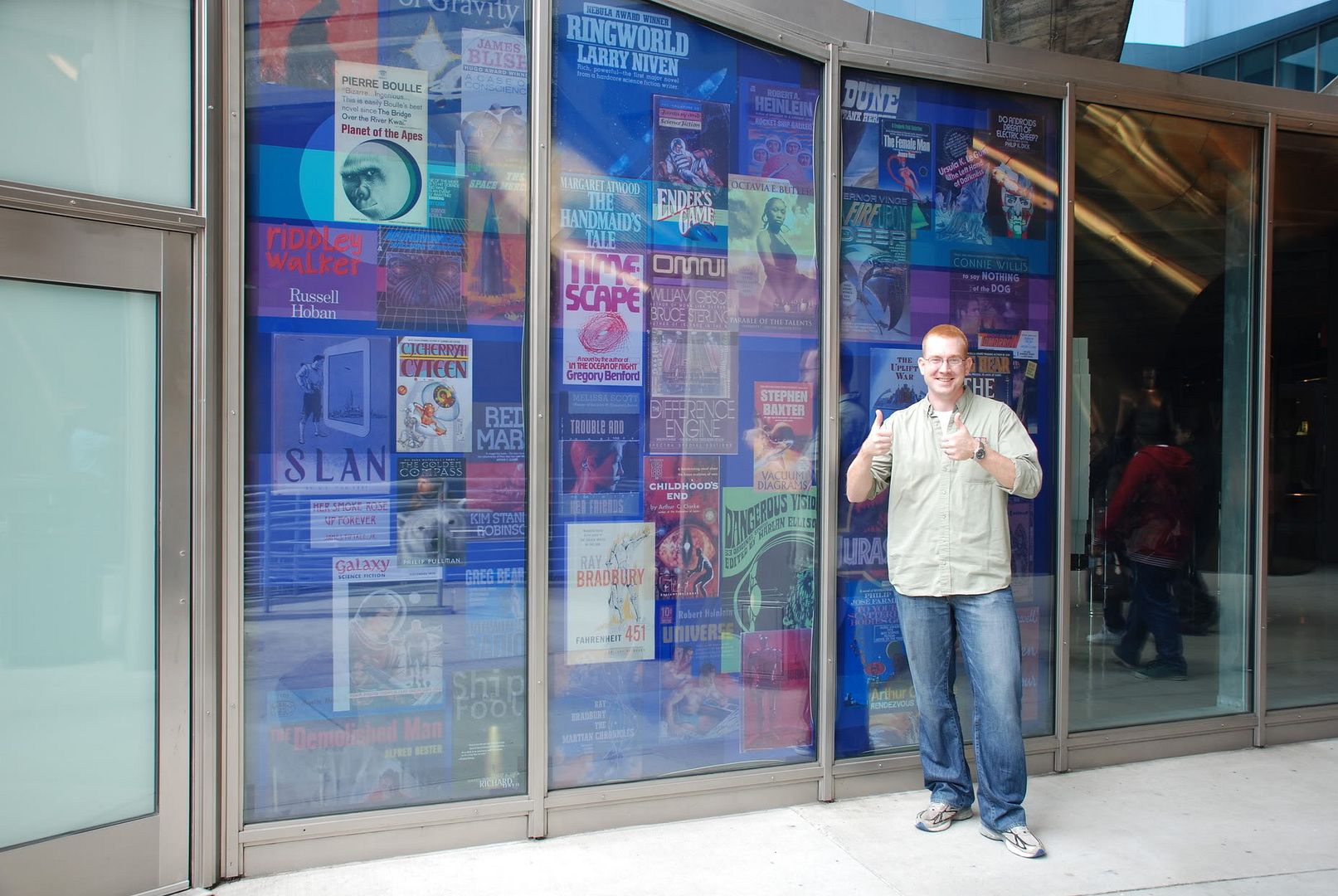 Stormtrooper costumes, Captain Kirk's command chair from Star Trek, and countless other memorabilia from popular science fiction novels of the twentieth century - NavyGuy was pretty impressed and excited to see so much love given to a much-maligned genre. I survived the experience by announcing that "I hadn't seen this or that movie" until I thought I might give NavyGuy a heart attack. (Tell me - what girl has actually watched Blade Runner?!?!?)

With most of the afternoon gone, we checked into our hotel and got dressed for dinner. NavyGuy had been to a really awesome Asian fusion restaurant called Wild Ginger when he visited Seattle previously, so we spent much of the evening there. Potstickers, princess prawns, duck, mango pork - all served family style - with rice, and fabulous champagne to wash it all down. For dessert - chocolate flourless torte :) Then it was off to The Triple Door, a nightclub around the corner, for one more drink and some jazz music.

All in all, a great mini-moon day... but the story doesn't end here...