Well, this is the last installment of my Back to School Shopping 2008 Series. I saved my favorite for last; the secret that all women know about shoes is that they're the best thing to shop for because you can always find something you like, you can always find something on sale, and you can always find shoes that fit! I must admit, I'm befuddled by some of the styles that are showing up this fall - booties? Fringe? Instead of being all-inclusive, I opted to showcase only shoes I would (and could) buy. I make no claims to any sort of comfort pledge on any of these styles; I can only vouch for their cuteness. Enjoy, friends.
American Eagle Classmate Button Slip-on - Payless
Just like what the kids are wearing today, but more mature. Please do not wear skull and crossbones on your shoes after you've reached the age of 25. These are a fantastic alternative. A subtle color palette, a little arch support - what more could a trendy "old fart" ask for?

Champion Infinity Mary Jane - Payless
The beer budget equivalent of a Sketcher's brand slip on, these light blue sneakers are casual enough to go to a park, yet dressy enough to wear with khakis. If Payless were smart, they'd solict a few more color options.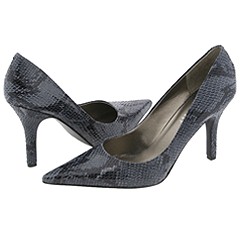 Nine West Barbe - Zappos.com
Yeow-za! (Sound it out.) That ain't just your boring librarian blue pinstrip suit anymore, not with these clicking down the street! Please excuse my salivation - I blame the moc croc.


Style&Co. Strapped Boot - Macys
I do not know how to walk in these. I do not know how to wear these. I do not know what to wear with these. I do not know if my jeans belong outside or inside these boots. And yet... I'm strangely drawn to them...


Croft & Barrow Kerri Plaid Flats - Kohls
I have to say - I got two pairs of these last year (black and brown), and wore them to shreds. I got tons of compliments, and my only regret is that after wearing them to shreds, I have to buy new ones (oh, and sometimes they get a little smelly, but a couple Dr. Scholls fixed that right up.) Kohls seems to have them again this season in brown, black, red, and this nifty plaid. Run - do not walk - and get them before the only sizes left are 5.5 and 10.



Merona Elaina T-Strap Pumps - Target
Oooo la la! A touch of 1930s, a sprinkle of 2008, and you've got yourself one saucy dress shoe. I'd suggest a thoroughly modern outfit to match these or else you'll end up looking like you're auditioning for Annie or playing historical era dress-up.

Xhilaration Sybil Mary Jane Wedges - Target
The requisite black work shoe, but cuter. The wedge gives a little lift, but much more comfortable to stand in all day than heels.


Lela Rose Felicia Ballet Flat - Payless
The pretty scoop toe is comfortable, yet not too stubby. I very much enjoy the color (though it does also come in a coral, which I find too summery), and do not care that my feet would be cold when I would inevitably wear them sans socks.



Hilt Pump - Payless
Available in an array of colors, I find the silver a versatile fit for fall. The pointy, but not stabby toe, sexy, but not slutty heel height - hooray. I suspect multiple purchases...
Xhilaration Sarai Knotted Flats - Target
Another flat option (god bless you shoe gods for bringing back the flat), I like the detailing on the toe. It reminds me of a bow, yet it simpler. Also available in a butter color.