When we last saw our intrepid travelers, the girls were shopping (and eating) and the boys were... well, turns out they found a way to entertain themselves:



As a brewer, BeerMan had this Portland event on his radar. So, why Miss A and I were surprised to receive texts from the boys as they were getting drunk at 11 am sampling beer is beyond me. At least they enjoyed themselves and stayed out of our hair while we shopped; after they finished all of their "samples," they met us at Portland's famous bookstore: Powell's Books!



Okay, so how do I describe Powell's to the uninitiated? Have you been on Amazon.com? Picture what you think the warehouse looks like where they store the millions of books available through that website... okay. Now add a small coffee stand, and you basically can understand what Powell's is. The photo above is one side... of one aisle... in one room. There are like 10 rooms the size of football fields full of new and used books! Powell's in my new religion.
NavyGuy had never been to Powells so he literally

sprinted

up the stairs leading to the science fiction section like the place was on fire and had he not gotten hungry, he may have stayed there indefinitely.
And since the economy needs major stimulating, NavyGuy and I stepped up to the plate and did our part.
One bag (FULL) of books later, we realized we needed a snack.
That's Miss A and I in our glory - we basically laughed like that through four years of college (it's really a wonder we both managed to get our degrees on time). Somehow she manages to still look radiant while chortling, whereas my eyes are squinched into my face. Oh I remember the joke! Our first attempt at this photo (taken, by the by, at a great happy hour bar where we refueled), looked horrible; our chins were squashed back into our necks. So NavyGuy - future Annie Lebowitz that he is - offered this helpful advice just before he clicked the next photo: "Chins out girls!" Yeah, maybe you had to be there ;)

After we snacked, we (of course) saw a movie!

Sunshine Cleaning

was a great dark comedy with a positive ending. Love Amy Adams, love Emily Blunt. Our big dinner plans for the evening were to check out Miss A and BeerMan's new fave restaurant - Toro Bravo! They serve tapas - small sized dishes or appetizers traditionally from Spain - which is perfect for a group like us; we're totally indecisive and we like to eat off each other's plates ;) So we could each pick out a couple we wanted to try and share amongst the group.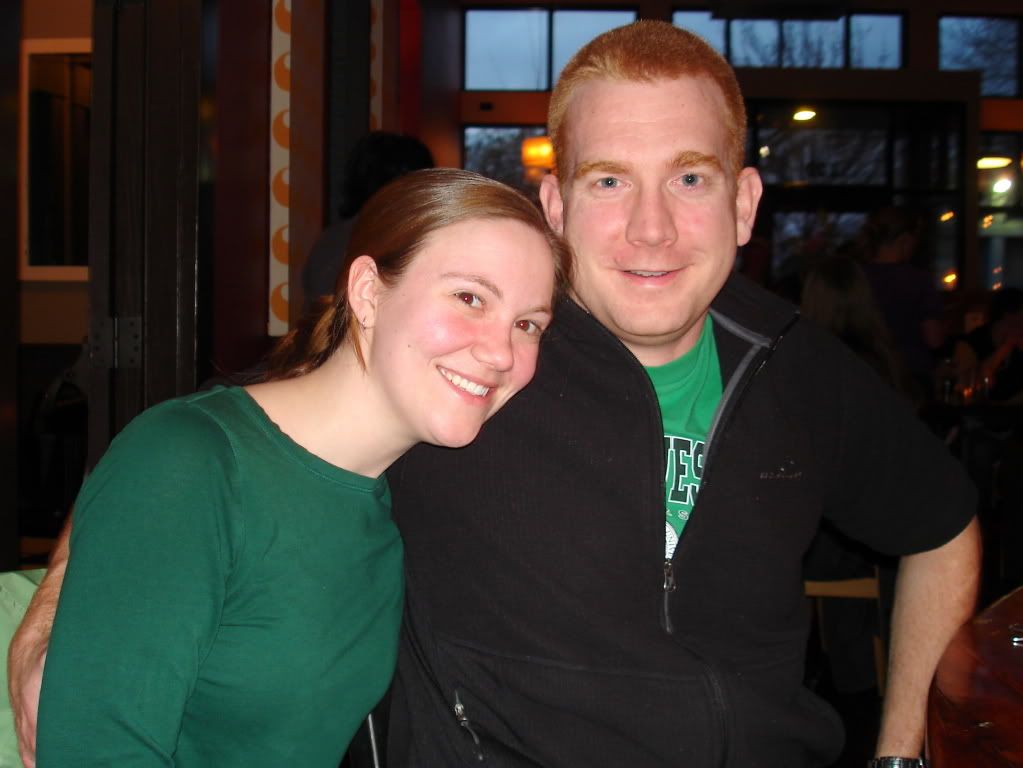 NavyGuy and I chillin' before the food arrived. The restaurant was obviously super popular, as it was PACKED! Instead of waiting three hours for food, we opted to sit at a counter seat, which was actually more fun than a regular table might have been. The restaurant's kitchen is right out in the open (very confident), and we could sit and watch everything being prepped; it became a little game to watch what the sous chef was doing and try to figure out what dish he was preparing.

Isn't that a fun view? (Please excuse the poor photo quality - I didn't want to distract the people with the sharp sharp knives in their hands, so I took a flash-less pic.) We gorged ourselves on amazing dishes - manchego and paprika fritters, baked polenta, sauteed kale raab with sunny side up egg - yummo! (Fancy names for cheese ball, baked corn, and green veggies covered in egg.)

My only sour notes of the tasting were the seared scallops (scallop texture freaks me out - it feels like wet playdough in your mouth) and "French Kisses." French kisses are brandy soaked prunes stuffed with foie gras. Yeah. I should have known from the description that they'd be nasty, but BeerMan loves them and wanted me to try one. NavyGuy and I both gagged them down and swore that foie gras is not worth the ridiculous cost. (P.S. Did you know it's duck liver!?!? I did and I still ate it anyway! Idiot!)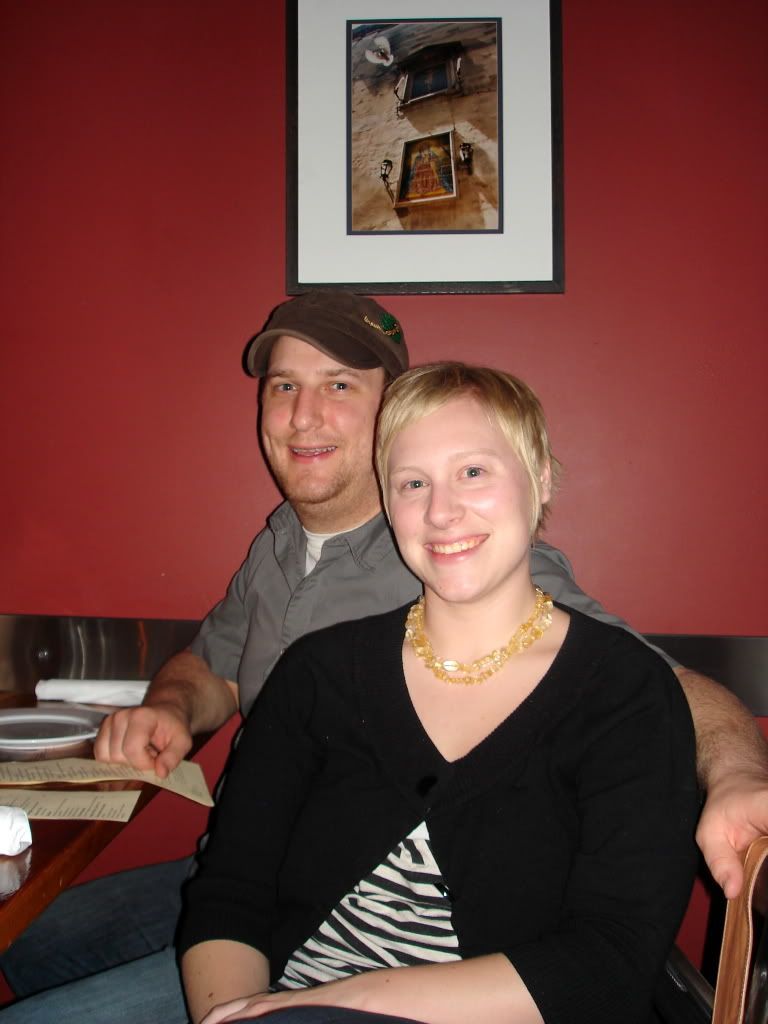 Miss A and BeerMan - aren't they adorable? Thank god they come with beer knowledge and oodles of sarcasm or I'd hate them both.


Of course we splurged on dessert. I have a standing policy of "no dessert sharing" but basically when three people attack you with spoons, you have to make an exception. Molten chocolate cake with homemade ice cream - is it too obvious I'm in love?

After our late dinner, we stumbled home and embarassingly, all went to bed by 10:30. I'd blame it on our busy eventful day, but mostly, we're just all getting old. Sunday we had brunch at a cute little place, Simpatica, which is located in an old church. We had brunched there after Miss A and BeerMan's wedding last August, but NavyGuy had had to catch an early flight and had missed the famous waffles and fried chicken. Despite having sworn not twelve hours earlier that we'd never eat again, we polished off four plates of amazing brunch food, and then it was time for NavyGuy and I to head back to the land of rain and airplanes.

Big thanks to Miss A and BeerMan for hosting our "mini-cation" in Portland - can't wait to see you guys again in a few weeks!!!