So, yesterday the wedding countdown of 40 days threw me for a loop (clearly, based on the fact that I legitimately considered weapons as appropriate accessories for the big day). Today however, is a new day, and a day in which I no longer have time to freak out.

So, as many of you have suggested, I will breathe and blow, "calm the hell down," and make progress on the to-do list (rather than using valuable time to find more pictures of scary brides).


Last night NavyGuy and I tried to firm up our ceremony music. We're having a string quartet perform for the ceremony, so we needed to choose a few processional songs and a recessional. Since choosing just those four songs took TWO hours (and required various
West Wing
breaks and a pizza snack to keep our sanity and relationship in tact), we are opting to let the quartet choose appropriate prelude music to entertain guests while they wait for the ceremony to start. Why was this process so hard? A wee bit o' background...
NavyGuy - pre-Navy-issued-haircut - in our college orchestra.
NavyGuy is a well-trained bassist. He played in our college orchestra, which was a pretty fancy-pants group. As a good friend/eventual girlfriend, I attended my fair share of orchestra concerts over the years. While NavyGuy loves classical music and would happily sit through a Wagner opera (with a dose of Mahler thrown in just for good measure), I can take about five minutes of instrumental music before I need something else to occupy my time (little known fact - I often tried to sneak a crossword puzzle book into the orchestra hall during college concerts). So, I was less than thrilled with the prospect of trying to decide on instrumental, primarily standard classical fare, for our ceremony.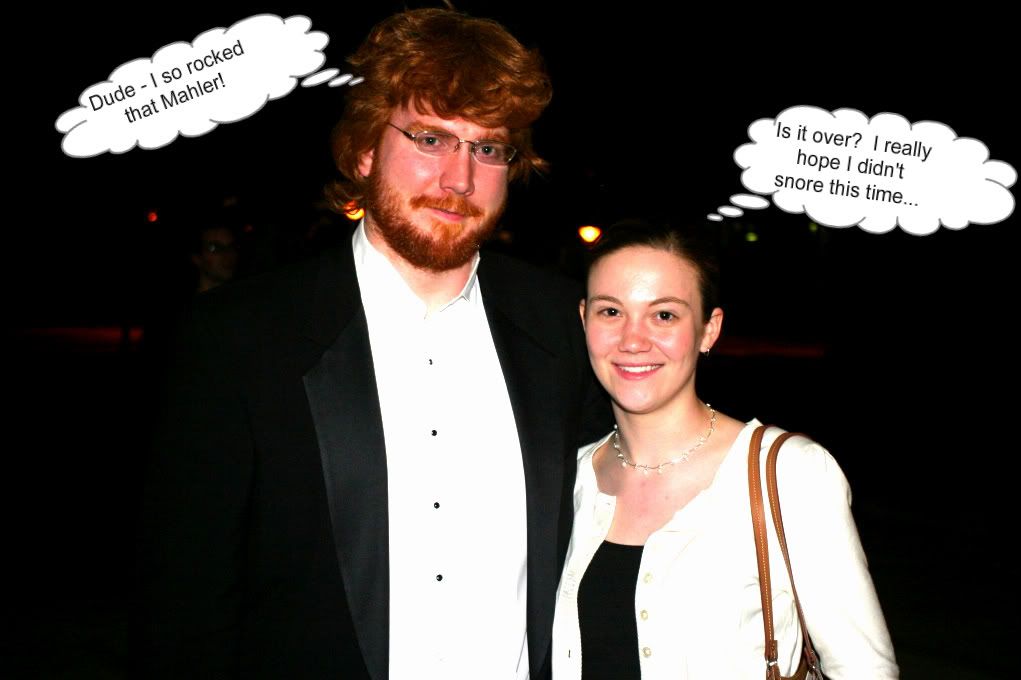 But, alas - it is not MY day, it's OUR day, and it's important to NavyGuy... so classical instrumental music it is.
We spent the evening going through songs the quartet suggested, and have come up with the following for the processional, which includes the parents' entrances, bridal party, flower girl and ring bearers, and oh, of course, moi.
Panis Angelicus - Franck
Air from "Suite No. 3 in D" - Bach
Appalachian Spring - Copland (primarily the "Simple Gifts" section)
I'm actually sort of looking forward to the music now - I love Copland, and I like the light, airy, sort of "awakening" tone that Simple Gifts has (hokey, but I couldn't think of a better word). I think it suits the moment - I'll be striding elegantly (God, please don't let me trip) down the aisle to meet NavyGuy and start the next stage of our lives, and I think the music should be uplifting and happy :)
The recessional is a whole other ball of wax. I'm not jazzed about any of the suggested songs - every one of them makes me think of a stereotypical wedding scene in a movie, because the songs are all very standard and expected. Luckily, the quartet has some more modern options on the list, and seems fairly willing to work with us on finding arrangements for other songs. We're going to give them a list of songs that we really like and think are upbeat and fitting for the recessional and see if they have access to an arrangement. Our list is an odd mix of oldies, classics, and some new stuff:
- Here Comes the Sun (the Beatles)
- How Sweet it is to be Loved By You (James Taylor)
- The Longest Time (Billy Joel)
- I'm a Believer (The Monkees)
- Somewhere Over the Rainbow (some upbeat version - I'm pretty sure the string quartet won't be able to pull off the Hawaiian sounding version with the ukelele)
- I Wanna Hold Your Hand (the Beatles)
We'll see what happens. If none of those work, we'll go with one of their suggested ones and just make do. Whew! We can almost check this one off the to-do list. Anyone have a favorite choice? Or a suggestion for a good recessional song that we haven't thought of?