NavyGuy - go away.

Seriously.


I love you, but this post contains photos of the hair and makeup beautiful-ness to come on wedding day, and if you look at the pics ahead of time, it won't be as exciting to see me all dazzled up with real makeup and a hairdo not based around a Goody rubber band on the actual wedding day.


Seriously.

I will know if you peek. I'm a teacher, and I have teacher senses in my blood; eyes on the back of my head don't begin to describe it.


Last chance buddy boy!


So here it is kids... the look I will be rockin' down the aisle...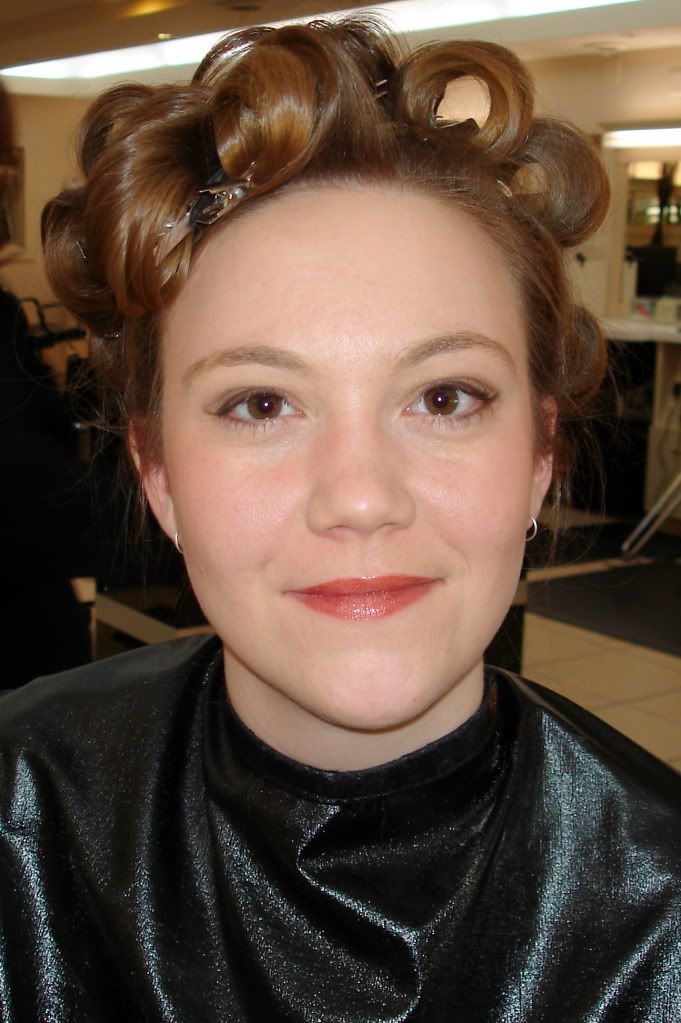 Nice, right?!?! I love how it accentuates my large forehead. I think the ringlets are very vintage, but also modern.

Um, yeah, you can stop gagging now. :) That's the in-process shot. (But I did giggle for two days straight after showing NavyGuy that photo and watching him try and not show a look of horror on his face... he's such a good man - he covered very well and said it looked "so pretty." Ha!)

Alright, here's the real thing. Side sweep with the pseudo bangs, low ball of curls with some peeking around the side of my head so I don't look bald. The photo above shows my bling hair comb. First, I tried it on top of my head.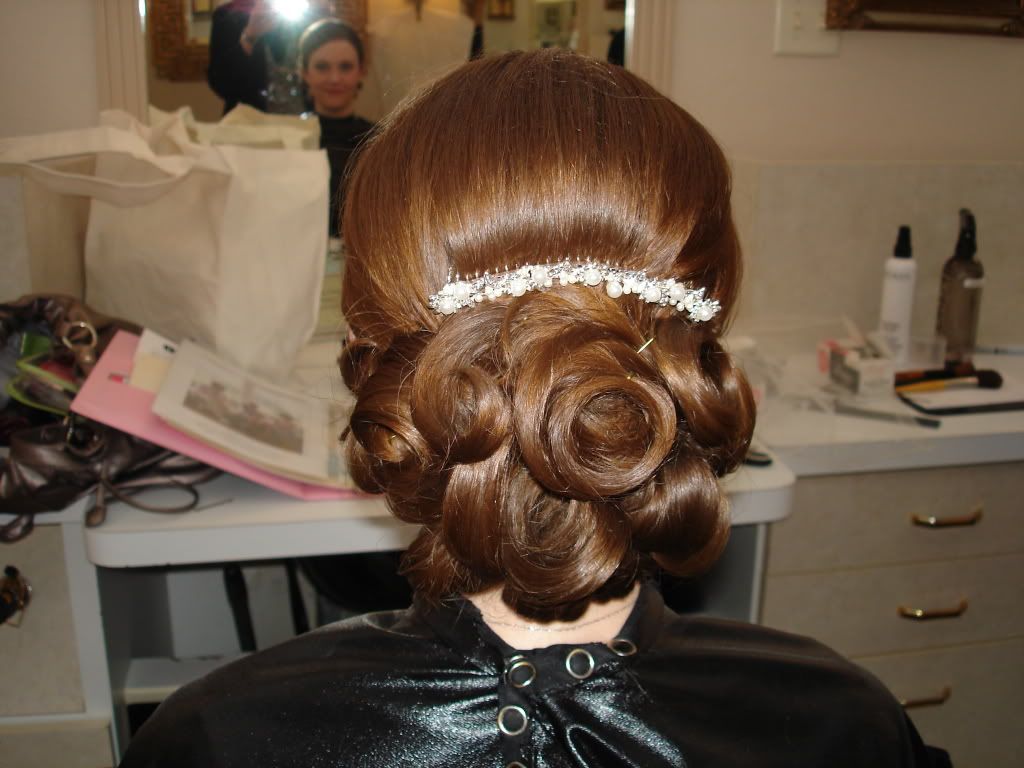 Here's the view from the back, and obviously, the hair comb has been reassigned. I like how it frames the back of my head, but it didn't stay very well, and it pushed the hair ball down a bit...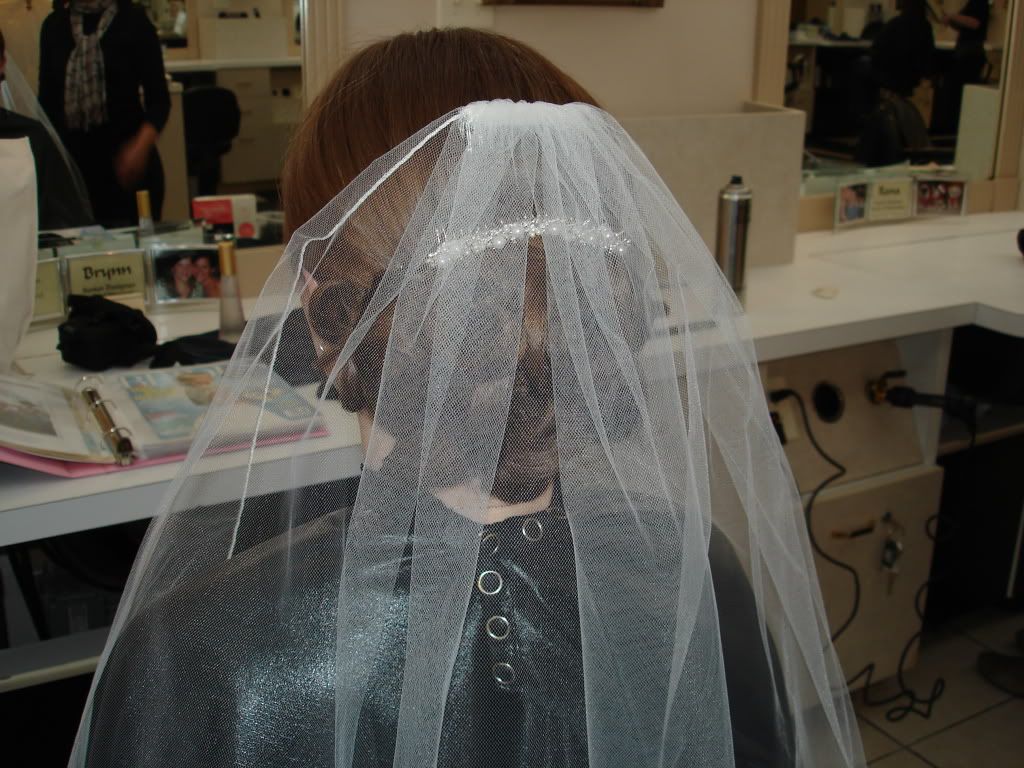 The veil is very simple so as not to compete with the fabulousness of my dress.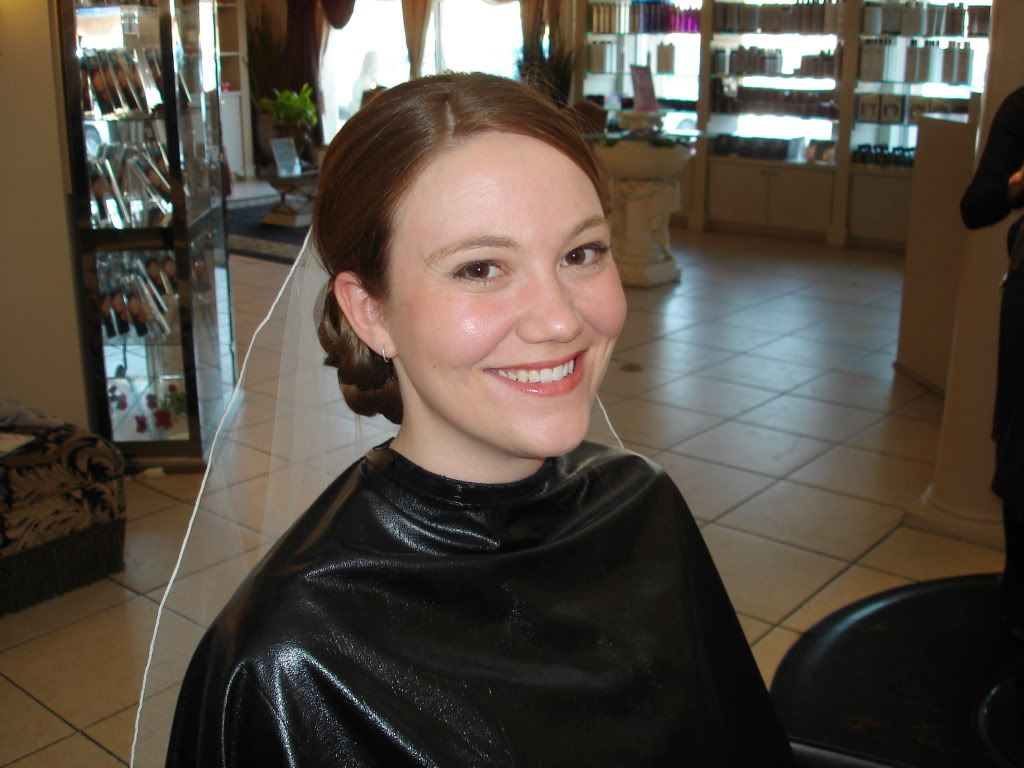 Lord above, I really am a ham.

So, thoughts? I had originally felt very confident with the hair comb in the back (I'm not an outright bling kinda gal), but now I'm doubting my selection and thinking it maybe does need to go up front. The makeup stayed fairly well throughout the day (she sprayed my entire face with some magic goop called "Model in a Bottle" which is supposed to set your makeup), but I may ask my stylist girl to pump up the eyes a little more, cuz I'm not sure they "pop" quite enough. Whatda' we think?